Incorporated in 1995, Desai Enterprises is one of the most trusted manufacturers of packaging products largely used by pharmaceutical, chemical, FMCG and other industries. We are based in Mumbai, India.

We offer a range of products that includes aluminium coloured vial seals, plain seals, flip-off seals, plastic dropper assemblies, measuring cups, plastic spoons, ointment and tablet applicators, piles applicators, eye and ear droppers, plastic dropper bottles and others packaging products.

Our state-of-the-art manufacturing unit, located in Jogeshwari, Mumbai, India, has 360° process and facility to fulfil every expectation of our valued clients. From design conceptualization to sampling and from quality analyst to stringent quality control process, our unit deftly handles every aspect of impeccable production of varied materials. Besides, we are also loved by our clients for on-time delivery in neat and nice manner.

We also have facility ti sterile our product with BARC GAMMA or Ethylene Oxide(ETO gas) to ensure hygienic output. No wonder then that our products are always appreciated by our valued clients for superiority, durability and tamper-resistance capability.

Some of our pluses admired by our valued clients are:
1. Best raw materials used
2. Free sampling
3. Matching every specification
4. Stringent quality control process
5. On-time delivery in the best packaging
6. We implement JIT, 6 sigma, KAIZEN tools to enhance our productivity.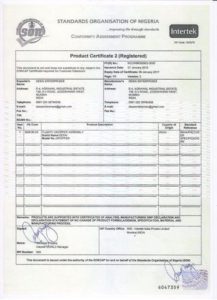 STANDARD ORGANISATION OF NIGERIA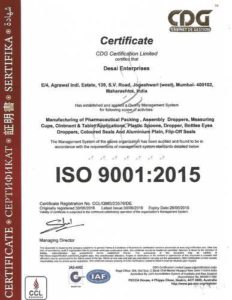 ISO 9001:2015 Certificate